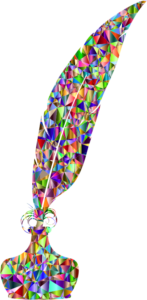 NOTE: I love words and languages. I tend to be thoughtful and heartfelt in my writing which can get a bit wordy (!), so if you are looking for the Reader's Digest Condensed Version, scroll to the bottom. Otherwise, read on!
You and I are sitting in my son's discarded beanbag chairs in the middle of what I call my Bird Sanctuary. On one side of us is a flock of colorful 3-D birds taking wing across the wall. The room's only window overlooks my back yard and deck where the sun is setting. Happy birds are flittering between the bird bath and the two feeders–one for my beloved bluebirds (worms and suet nuggets) and the other for everyone else (seeds). My backyard is narrow with a steep slope at the edge of our yard; hundreds of tall trees grow up from the slope that descends to a creek, providing ample shade for our deck and plenty of "hidey holes" for the wild birds and critters who reside there. On a lucky day I can see a Blue Heron fishing in the creek.
Along the opposite wall is my CD collection of children's music that I've collected over my 30 years in the field of Early Childhood Education. I estimate that I have around 500 CDs of all sorts of "children's" recordings with more on the way! Among the other things I collect: birdie stuff, children's books, 3-D hearts of various materials (stone, glass, etc), office supplies, quotes. So many things bring me pleasure that I am surrounded by things that make me smile. 
My Sanctuary is also my office, so I spend countless hours here. I have bazillions of teacher resources, books, files, and materials from my varied classrooms over the years (PreK, primary, college, Professional Development). All my PreK -primary hands-on materials live in my basement. Actually, they allow my family and me to share the house, but they seem to be gradually taking over every nook and cranny. I'll bet many of you can relate to that! 
I have very little music training, but for a few years of piano lessons when I was young, and yet I have been passionate about incorporating some type of music into my work and life every day ever since my first day of teaching back in 1986 (also the year I married Ken!). I believe in the power of music to transform thinking, move us physically, emotionally, and cognitively through rhythm, rhyme, melody and movement. That has been at the heart of my work as an educator for 30 years, and Little Songbird: Songs for Learning has been my dream for nearly 20 of them! 
I have lived in over a dozen places across the US and moved more often than that, and music has always provided a safe haven and means of connecting with people wherever I've been–at school, church, community, home. Even in the shower! I always joke that my shampoo is the greatest fan of my singing! 
I'm NOT a singer, nor a musician. I just love singing and how it makes me–and those around me–feel! I own two pianos (don't ask!) but I rarely play them anymore. I own a guitar which I never learned to play so I gave it to a talented friend. Your best bet at getting me to play an instrument is the KAZOO–a wonderfully funny-sounding voice-equalizer. You can't screw up on a kazoo! 
My point in divulging all this is that I believe you do not need to be a "musician" to sing with kids (or adults, for that matter!). You just need to believe in the joy and power of music and be willing to lead others in song. This site is for everyone–the "only in the shower" singers, the car-rockers, the virtuosos and everyone in between. The beauty of downloadable recorded music is that it instantly gives you Karaoke Night–the music and words are there–all you need to do is sing! In writing this blog I hope to share my thoughts on various ways to incorporate music as well as some of my thoughts regarding education in general. I welcome your feedback! I consider myself "green and growing" so I am open to other viewpoints and ideas!
If you ever drop by my Sanctuary you'll probably find me sipping a Pepsi, listening to music (unless the work requires intense focus–then I need silence!), occasionally petting my two cats who are great supervisors, checking on my outdoor birds and feeling groovy. You probably won't see the rare Son (in college) or exotic Husband (who works out of town most days) but their presence is felt in the Sanctuary, too–leftover work papers, the table set up behind me where our son does all his computer work when he's home (he's an IT guy), and birdie things they've given me over the years. 
Welcome to my Sanctuary!
Summary: Lisa has been in education for 30 years in some form or other (PreK, Kdg, primary, college, student teacher supervisor, professional development provider, etc) and holds a M.Ed in Early Childhood Ed from the University of Cincinnati (one of the many places she's lived). She loves birds, cats, humor, travel, children's books, music of all sorts for kids and adults, Pepsi, her family and friends, gelato and learning. She does not like: Coke, mustard, mean people, unread books, seafood, germs or war. That said, a wee bit of all of those things tend to crop up in life, so you have to take the good with the bad…
Personal Goal: I believe that mistakes are necessary for learning. I'd like to learn from my mistakes…FASTER!
graphic courtesy of OpenClipart.org